Do Not Try To Pop, Poke, Or Prod Your Pimple-
There are a number of reasons why you want to leave your pimples be. Number one, your fingers are covered in bacteria and oils and if you create an open wound with them it is quite possible to get bacteria inside and make the zit worse, possibly even getting an infection. Trust me, you do NOT want an infection on top of your acne. Just leave it be.
Need A Quick Fix?
A pimple is a bacterial buildup inside your pores, the nature of your body trying to get rid of it makes the swollen area that we know as pimples. Because most of the problem behind a pimple is the swelling, ice is a fantastic way to hide your problem. Just apply ice to the problem areas until the swelling goes down.
I Heard Toothpaste Works. Does it?
Yes and no. There are some kinds of toothpaste that have active ingredients in them that well help you get rid of pimples. The problem is that you have to have the right kind of toothpaste, it does not fix the root of the problem, and for some people it will actually irritate your skin more, making the problem worse! If you are brave enough to try out toothpaste, test out leaving some on an inconspicuous spot on your body and see how you react first.
So You Have To Pop It… Do It The Right Way!
This is how to get rid of pimples properly:
1. Make sure you can see a white head formed inside the pimple. If you try to pop it too early it could make it much worse, and that defeats the purpose.
2. Wash your hands and your face very well.
3. Take a needle and hold it under a flame to sterilize it. Let it cool and then wipe the needle off with an alcohol soaked cotton ball.
4. Gently impale the top of the white head, preferably parallel to the skin, coming out on the other side of the pimple. Carefully pull up and open the top of the pimple.
5. Using even pressure around the pimple, push down. You do not want to pinch because it could easily burst the wrong way causing only more problems for you.
6. Clean the spot using an alcohol soaked cotton ball. And that is that!
Sadly, Getting Rid Of A Pimple Doesn't Mean The Pimples Won't Come Back!
In a perfect world you would just leave the pimple alone, and it would go away never to come back. Unfortunately, that is just not how it works. You can wait and let the zits go away, or pop them but you are just getting rid of the symptoms of the problem. You are not fixing the source of the problem. So how do you fix the source of the problem? I will tell you how to get rid of pimples!
There are several things that need to be taken to account for you to properly get rid of your pimples.
°First off, diet contributes to your skin. Foods high in saturated fats and trans fat contribute to your skin being oily. Proper vitamin intake will also help your skin stay clear as well, Vitamin A and Zinc have been know to lower breakouts.
°Secondly, you need treatment. There are many types of acne treatments available, but do not waste your time/money/face on ones that you can get at any store. Sure, they might do the job for a bit but with a matter as serious as this I would not take any risks!
What Are The Best Products Available To Help Get Rid Of Pimples?
After reviewing many acne products, these are the top three on our list:
Acnezine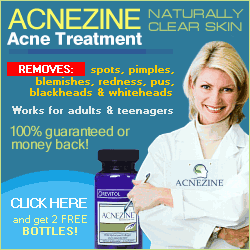 Acnezine is an acne product like no other. Most acne medications consist of topical creams and washes to clear up the problem at the skin level. Acnezine takes a different approach. It is a pill made of all natural ingredients aimed to clear up acne at the source of the problem, from the inside!
Getting flawless skin is as simple as taking one capsule before a meal. There is also a topical cream included to help moisturize your skin and clear you up as fast as possible. Out of all of the products we have reviewed Acnezine takes the top spot for usability, price, and RESULTS!
Also, one of the best aspects about Acnezine is their pride in their brand. They are one of the most reputable companies around with a great reputation for having great customer service. If you need help with anything they will help you.
Also, there are a lot of companies out there that will rip you off. Many companies will "rebill" your credit card automatically, charging up to hundreds of dollars for products that you did not order. Acnezine will never do this and you can trust them because they are very trustworthy.
Side Effects: None reported.
Shipping: Typically 2-3 weeks.
Money Back Guarantee: Acnezine takes pride in their product and offers a 90 day money back guarantee.
Vendor's Website: www.acnezine.com
Click Here To Order Acnezine Now!
Comments 3 out of 117
Exposed Skin Care

Exposed Skin Care takes a different approach to fighting acne than Acnezine. Exposed is purely a topical product, meaning products you put on your skin. After testing many topicals, Exposed came out on top for most effective. It truly is the best topical acne medication that you can get.
Exposed Skin Care is effective by doing three things:
1. Gently detoxifying and cleansing your skin using Sage Extract, Vitamin B15, and Salicylic acid.
2. The Clearing Tonic restores the proper PH balance, and exfoliates your skin.
3. The Acne Treatment Serum kills acne bacteria and prevents new blemishes.
These three things combine pack a hefty punch to your acne! The downsides to using exposed are that its kind of hard to get into the habit of using the products daily, but if you are committed than the benefits are immense. Also, you want to ease yourself into the products. Using too many products at once from using none, can shock your skin causing it to dry. Even if you do dry up a bit you will adjust quickly.
All in all Exposed Skin Care gets a 9/10 rating from us. If you are serious about smooth skin than visit the link below to buy your first kit now.
Side Effects: As with any topicals, you need to adjust your skin to them. Go slow at first otherwise you may have some adverse reactions.
Shipping: Typically 2 weeks.
Money Back Guarantee: 1 year money back guarantee
Click Here To Buy From amazon
Related Post